Current Conditions,
Forecast, Radar and
Alerts at a Glance
Current Conditions / SCROLL TO VIEW



Today's Weather Summary for Minnesota (3:45 a.m.)
Lingering low clouds over the northeastern and west central parts of Minnesota will gradually erode today, with a fair amount of sunshine expected this afternoon. Mild temperatures with dry weather will prevail into next week, with 40s and 50s for highs becoming common. Some high temperatures in the 60s even appear possible near the Minnesota River Valley over the weekend. The next chance for precipitation arrives on Tuesday.
NWS Snowfall

Forecast / Minnesota



The Weather Story

(NWS Twin

Cities)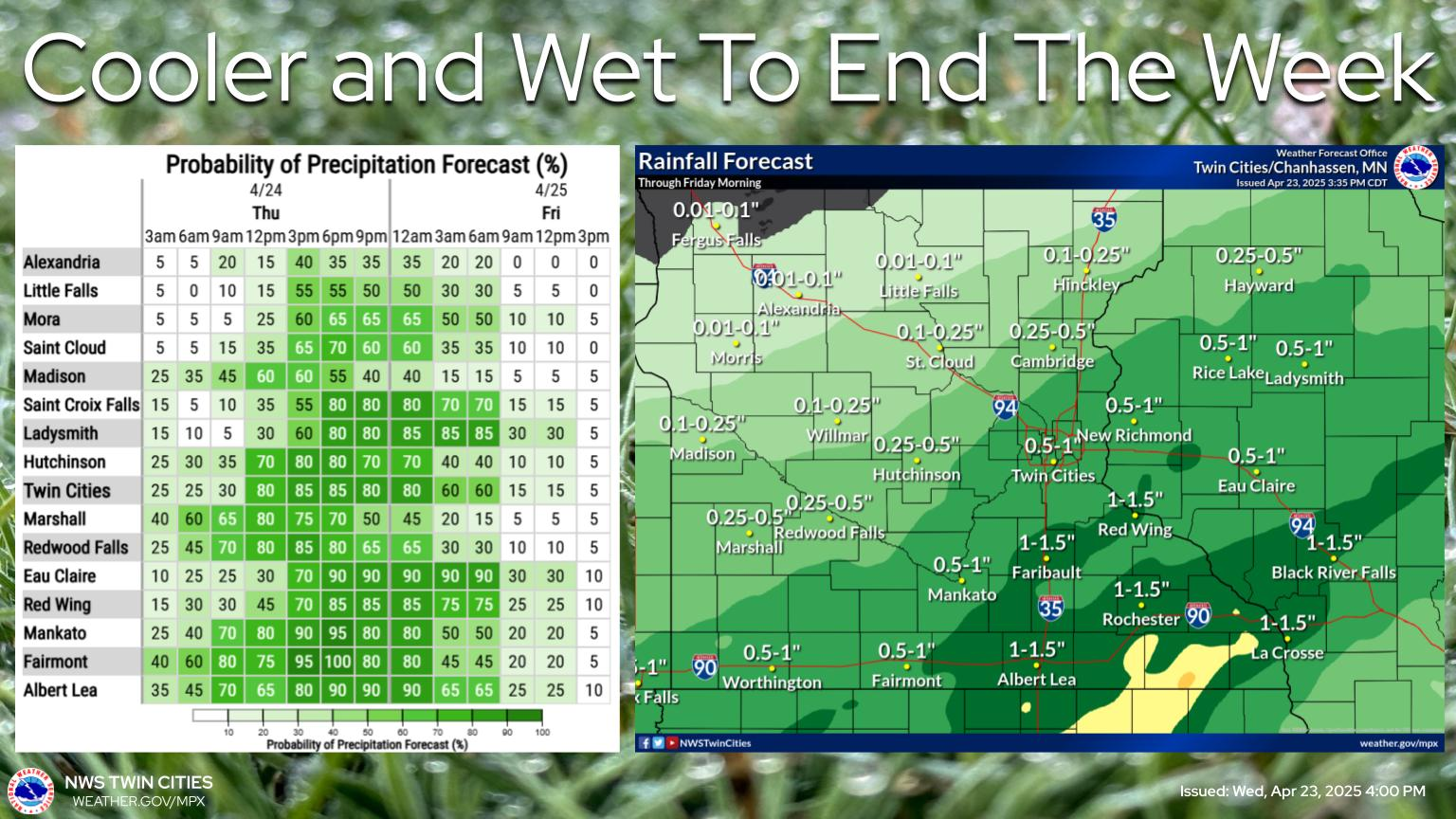 The next few days will be mild and dry, then temperatures will really warm up as we head into next week, with near record highs possible by Tuesday. Any chance for widespread precipitation looks to hold off until Tuesday night or Wednesday.

Area Radar

(Weather

Underground)
Current Minnesota Snow Depth

(DNR/State Climatology Office)


UPDATED ON THURSDAYS
Air Quality Index
SARTELL

Today in Weather History




(NWS Twin Cities/WeatherForYou.com)



MARCH 4
1935: An extremely damaging ice storm hit Duluth. The storm began on March 3rd with freezing rain and wet snow. By the morning of the 4th, the snow stopped but the freezing rain continued. The lights started going out in Duluth due to power lines breaking. Four streetcars were abandoned, and a heavy salt mixture and pickaxes were used to try to free them. A one-mile stretch of telephone poles broke off.
1953 - Snow was reported on the island of Oahu in Hawaii.
1966 - A severe blizzard raged across Minnesota and North Dakota. The blizzard lasted four days, producing up to 35 inches of snow, and wind gusting to 100 mph produced snow drifts 30 to 40 feet high. Traffic was paralyzed for three days.
1989 - A strong (F-3) tornado injured five persons near Brownsville, MS, and killed seven cows and two hogs in one pasture.
1990 - A Pacific cold front working its way across the western U.S. produced heavy snow over parts of Idaho, Nevada and Utah.
2004 - An F0 tornado 2 miles north of Muldrow, OK, broke a record stretch of 292 days without a reported tornado.
YESTERDAY'S HIGH/LOW
TEMPERATURES IN SARTELL
High: 46.0 Low: 23.7
YESTERDAY'S NATIONAL
HIGH/LOW TEMPERATURES
Thunder in March betokens a fruitful year.
MARCH 4
SUNRISE: 6:49 am
SUNSET: 6:08 pm
LENGTH OF DAY: 11hr 19m