Current Conditions / SCROLL TO VIEW



Today's Weather Summary for Minnesota (4:35 a.m.)
Today will be seasonably mild and breezy. Over the weekend widespread snow is likely, especially across southern Minnesota.
NWS Snowfall

Forecast / Minnesota



The Weather Story

(NWS Twin

Cities)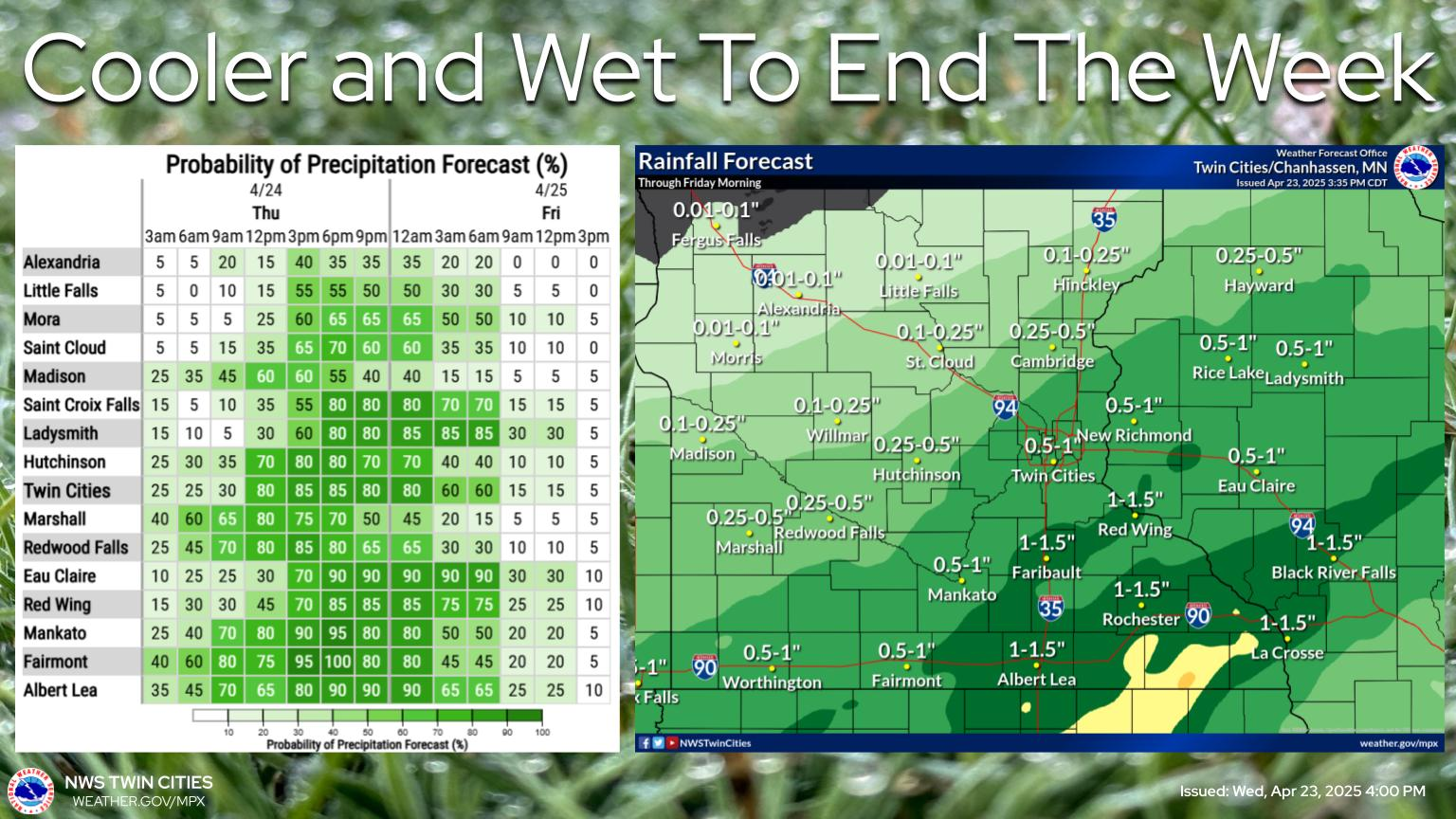 Snow is expected to spread across the area on Saturday and last into Sunday. Please continue to monitor for updates.

Southerly winds this morning will become westerly this afternoon. Winds will gust to 25 to 35 MPH.

Area Radar

(Weather

Underground)
Current Minnesota Snow Depth

(DNR/State Climatology Office)


UPDATED ON THURSDAYS
Today in Weather History




(NWS Twin Cities/WeatherForYou.com)



JANUARY 20
1937 - The wettest Inaugural Day of record with 1.77 inches of rain in 24 hours. Temperatures were only in the 30s as Franklin D. Roosevelt was sworm in for his second term.
1943 - Strange vertical antics took place in the Black Hills of South Dakota. While the temperature at Deadwood was a frigid 16 degrees below zero, the town of Lead, just a mile and a half away, but 600 feet higher in elevation, reported a balmy 52 degree reading.
1954 - The temperature at Rogers Pass, MT, plunged to 70 degrees below zero to establish a new record for the continental U.S.
1978 - A paralyzing "Nor'easter" produced a record 21 inches of snow at Boston, 15 to 20 inches in Rhode Island, and one to two feet of snow in Pennsylvania. Winds along the coast of Connecticut gusted to 70 mph.
1988 - A storm in the Upper Midwest produced heavy snow and gale force winds. Up to 27.5 inches of snow was reported along the Lake Superior shoreline of Michigan, with 22 inches at Marquette.
YESTERDAY'S HIGH/LOW
TEMPERATURES IN SARTELL
High: 15.4 Low: -0.6
YESTERDAY'S NATIONAL
HIGH/LOW TEMPERATURES
Sunshiny showers last half an hour.
JANUARY 20
SUNRISE: 7:49 am
SUNSET: 5:06 pm
LENGTH OF DAY: 9hr 16m
NEXT FULL MOON: JANUARY 28