Today's Weather Summary for Minnesota (3:46 a,m,)
Sunday`s temperatures will warm into the mid 50s and mid 60s as the warming trend continues. Breezy southerly winds are likely, especially across southern Minnesota. Monday will be calmer with similar temperatures to Sunday. Tuesday will be even warmer with highs in the mid 50s north to upper 60s south. Some breezy winds are possible across southern Minnesota again. A cold front arrives Wednesday cooling us down to near normal temperatures and bringing precipitation. Rain, and maybe even a thunderstorm, will occur along and ahead of the front. Behind the front, a changeover to snow will be possible.
NWS Snowfall

Forecast / Minnesota



The Weather Story

(NWS Twin

Cities)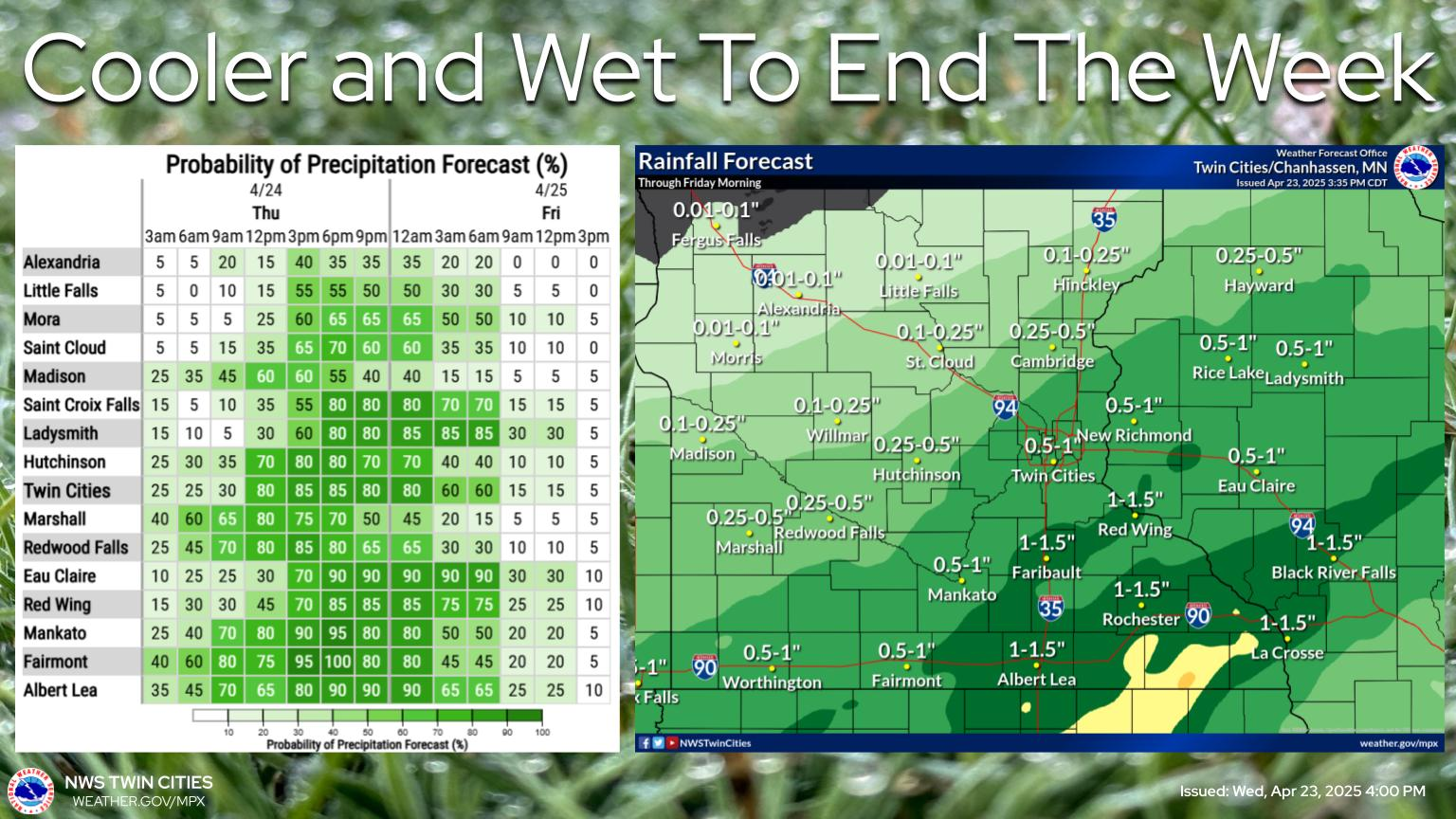 The very mild pattern will continue into mid-week. Record highs are possible Tuesday as temperatures rise into the 60s. Some 70s are also possible, which would shatter the old records in the upper 50s or lower 60s. A cold front Wednesday will cool temperatures and bring our next chance of rain.

Sunday will be warm with breezy conditions, especially across southwest MN. Monday's highs will be similar but winds will be calmer. Temperatures warm even more Tuesday where record highs are possible. A cold front arrives Wednesday, cooling us down and bringing our next chance of rain.

Area Radar

(Weather

Underground)
Current Conditions, Forecasts, Radar and Alerts at a Glance
Current Minnesota Snow Depth

(DNR/State Climatology Office)


UPDATED ON THURSDAYS
Air Quality Index
SARTELL

Today in Weather History




(NWS Twin Cities/WeatherForYou.com)



MARCH 7
1950 - A snow and ice storm hit Minnesota. Fifty-two electrical poles were down in Norman County with ice up to 1 ½ inches on wires. All communication lines out of Fargo were out. During the snowstorm that followed later in the day, a Northwest Airlines plane crashed into three homes in Minneapolis killing all 13 on the plane and two on the ground.
1987 - Forty-five cities in the north central and northeastern U.S. reported record high temperatures for the date. Huron, SD, hit 80 degrees.
1987 - A heat wave across Minnesota brought the earliest 70 degree readings on record to the Twin Cities. The record high for the day was 73, breaking the old record by 13 degrees. Shorts were common and people were turning over dirt in their gardens for planting.
1990 - Up to two inches of ice coated much of western and central Iowa, with three inches reported in Crawford and Carroll counties. As much as five inches of ice was reported on some electrical lines. The ice downed 78 towers in a 17-mile stretch of a high voltage feeder near Boone, costing three electric utilities $15 million. Damage to trees was incredible, and clean-up costs alone ran into the millions. Total damage from the storm was more than $50 million.
YESTERDAY'S HIGH/LOW
TEMPERATURES IN SARTELL
High: 48.6 Low: 21.2
YESTERDAY'S NATIONAL
HIGH/LOW TEMPERATURES
In the morning mountains, in the afternoon fountains.

MARCH 7
SUNRISE: 6:43 am
SUNSET: 6:12 pm
LENGTH OF DAY: 11hr 28m